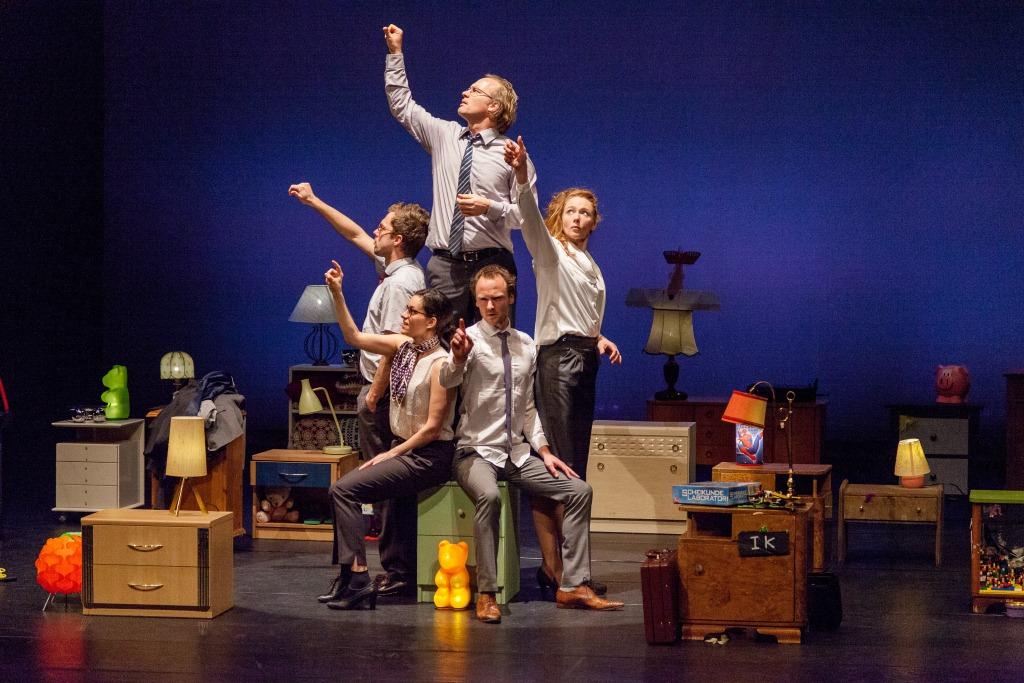 The Peter Pan Experience
For everyone between 8 and 108 years old

> Download press photos
> Download trailer 
> Download promo and practical documents
A quirky family production for both high-flyers and low-flyers. Surely unmistakably recognisable for anyone who deals with, is or wants to become an adult.
A stage filled with nightstands and floor lights. This is Neverland, a twilight zone between dreaming and waking. Anything could happen here. Anything you can see or can imagine. If you are not able to do that anymore, your invisible host Peter Pan is there to help you to find it again. Five adults will be dropped in Neverland. They lost their power of imagination. Neverland will become the adventure of their lives.

Classy suits and barefoot outrage. Black ties become Indian feathers and the adults are having fun and dare to dream again. Playfully they lose just enough ground under their feet to fly like their host. Visuals, music, singing, dancing and special effects. On the edge of your seat we take you from one surprise to another one. Peter Pan has all kinds of tricks to give these adults a good dust-off. This show is recognizable for anyone who is or has to deal with an adult. And who will become one.

Together with Junges Ensemble Stuttgart, Laagland director Inèz Derksen already developed a successful version of Expedition Peter Pan in 2012. This eccentric German version now has a sassy Dutch sister.
Reviews from programmers
Baboró International Arts Festival for Children, Galway, Ireland:
"Everyone who has come into our office the last few days has been raving about the show, it's the most talked about and loved show I think we've ever had and we're so grateful to you for coming here. Our audiences certainly did embrace the show - the reaction was amazing! I went to a school show on Friday, and the children were bouncing in their seats, dancing along, laughing at everything and they absolutely loved it. It was one of my all time highlights at our festival. It was just the happiest moment. Went to see the show a second time on Sunday and loved it even more. It's just a fantastic show, my face hurt from smiling afterwards and we were all so full of joy. Such a lovely company, great people, and it was a pleasure to have them here. After storm Ophelia and the unfortunate start to the festival, Het Laagland was definitely just what we needed!"

Press reviews
'THE STAGE IS FILLED WITH PIXIE DUST AND JOY.'
**** De Volkskrant 23-02-2015

'THE LAAGLAND THEATRE WORKS MAGIC AS IF IT WERE CHILD'S PLAY'.
**** Theaterkrant.nl 21-02-2015
Production details
Family theatre for everyone between 8 and 108 years old | Duration: 70 minutes.

Cast & crew
Concept: Inèz Derksen & Christian Schönfelder | Director: Inèz Derksen | Cast & Script: Aafke Buringh, Lennart Monaster, Gijs Nollen, Folmer Overdiep & Kim Berkenhagen / Kiki van Aubel | Stage design: Bas Zuyderland | Costume: Jorine van Beek | Dramaturgy: Ludo Costongs

Bookings
For bookings or further information about the play, please contact Simone Mager by email at simone@hetlaagland.nl or tel.no. +31 (0)46 400 72 73

This production can be performed both in German, English and Dutch.